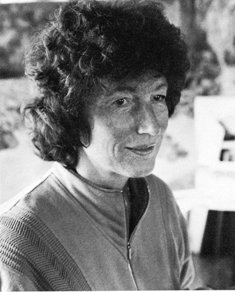 Silke Glättli, nationality Swiss (photo taken by Walter Glättli)
Painting as Profession and Vocation

Painting is a passion for me, like a fire that burns within me. I simply have got to paint. When I paint I am myself. Or in other words: When I paint, I am the picture. When I paint, I forget the time and myself. I loose myself into the subject. And out of the subject and myself gradually the painting comes into being. Whatever I see with my eyes, mind, heart and soul becomes an inner experience and is transformed into a work of art...( From the chapter «About the creation of my paintings»,

Art Book

«The Painter Silke Glättli», page 21)

Since earliest childhood painting has been my most beloved occupation. Therefore, after finishing high school, I wanted to study art. However, my parents demanded that I should learn a «real» profession that I could make a living of. But even after my successful graduation in English and education at the University of Hamburg my parents warned me of the «long and rocky road» of an artist and therefore did still not allow me to study art

Therefore I decided to go my own and unique way all by myself.

On August 13, 1960 - with 21 just become of age - I got on board of the «Bremen» to immigrate into the United States.

New York : Manhattan: Thanks to my knowledge of languages I got a job in an American Im- and Export Company. I had to earn my living as well as to pay back the money for the crossing over that a dear girl friend of mine had lent me. I managed to start the new year without debts.


And now finally, I could start thinking of beginning my art studies. At first only in the evenings, of course. (For further information see

Art Book

, page 34 ff.)

In the fall of 1961 I quit my job in the Im- and Export Company because a Manhattan Company employed me as an artist to work in a new Fresco technique.

1962
First one-woman- exhibition at the age of 23 years in New York (Manhattan)
1963
After a year in San Francisco - on October 12 (Columbus Day ) - getting on board the «President Wilson» to start a trip around the big rest of the world: over Hawaii, the Orient and Egypt back to Europe: without a camera but - of course - with painting materials
1971
Marriage with Walter Glättli of Zurich. Since then Switzerland has been my beloved home
1972
Participation in the art exhibition of the 1000-year celebration of Stäfa.
1973
Birth of son Markus
(For further information see the Art Book).
Art Education
Oil Painting, water colour, figure drawing
Art Students' League and Greenwich Village Art Center, New York
Original-(Stone-) Lithography

Atelier Matthieu, Dielsdorf near Zurich and Ernst Hanke, Ringgenberg, Canton Bern

Original colour etchings
Etching Studio Hedy Weber, Zurich
© Silke Glättli, Stäfa; Schweiz/Switzerland
Inhalt aktualisiert / content updated: 07.12.2009 Disclaimer
Gestaltung/Layout: Markus Glättli